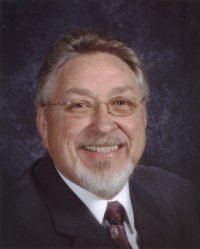 Rev. Don Robinson claims no originality for these sermons. However, every sermon posted here has been preached during his 31 year pastoral career.

The 1,275 posted sermons are categorized by the main scripture reference. There are also several sermon series available.

For best performance, use a current browser with Java enabled.You can use the non-frames/non-Java Sermon Page if you'd rather.

To have your own copy of all of the sermons, click here to download a zip file. Once you download and extract the file, click on the "index.html" file to browse the sermons on your PC.
Don Robinson passed away on October 24, 2012 after a year-long battle with leukemia. Below are some final thoughts that he wanted to share. If you have any thoughts you would like to pass along, you can email and the message will be sent to his wife, Pat.

Hello all,

The battle is over! The victory has been won! 1Co 15:57, "But thanks be to God, which giveth us the victory through our Lord Jesus Christ."

It has been a difficult and challenging year, but God has shown Himself mighty and powerful through it all. In ways that I certainly cannot explain He has met my needs one by one. He provided good friends to encourage me, new friends to refresh me and many opportunities to minister to others for Him. 2Co 9:15, "Thanks be unto God for his unspeakable gift."

If you have never trusted Christ as your personal Lord and Savior I want to urge you to place your trust in Him. His grace is amazing and His Word is true. Salvation and the promise of eternal life rests in that personal relationship with God's Son, Jesus Christ. 1Jo 5:12-13, "He that hath the Son hath life; and he that hath not the Son of God hath not life. These things have I written unto you that believe on the name of the Son of God; that ye may know that ye have eternal life, and that ye may believe on the name of the Son of God."

May He bless you greatly in your lives and ministries.

Bro. Don